For the best customer experience and convenience, our Qtrac Help Center offers full article's library with Manuals or Qtrac Guides under the Knowledge Base menu. Since this is copyrighted and sensitive software information, most of these articles are password protected, and you must be logged in the Qtrac Help Center in order to access them.
If you do not have Qtrac Help Center credentials please follow this link, and our Qtrac Help Desk team will be happy to assist.
If you already have Qtrac Help Center credentials please navigate to the Knowledge Base menu. Once you are there you will notice that there are two new "How to use" topics and "How to configure" topics as sub-categories.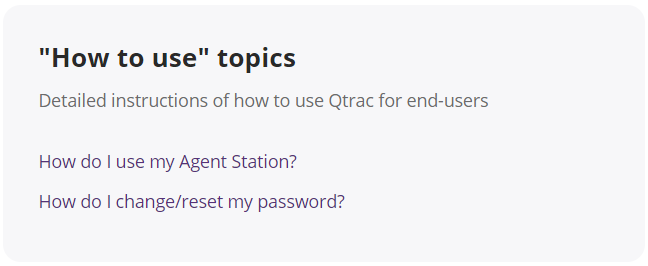 As you can see this is a live library section with sub-categories for How to use the Qtrac Software, as well as How to configure the Qtrac software ( Note: usually permissioned only for Branch or Company admins). All of these article manuals are constantly improved and upgraded with new and more articles.
If you still have any questions, please feel free to get in touch with our Qtrac Help Desk.
0
0
Was this article helpful?
0 out of 0 found this helpful